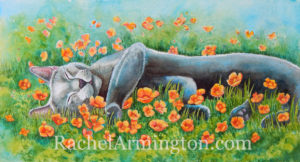 I have a special love for the amazing cats at the Blind Cat Rescue and Sanctuary. Our cat Widget lost her vision as she aged. She got along so brilliantly that we didn't notice. Her senses of hearing and smell and, of course, her whiskers, compensated for her lack of sight. We only figured it out after we re-arranged the furniture and the poor kitty began bumping into everything.
When I saw a photo of Poppy, a street cat from New York City turned resident of the Blind Cat Rescue, I knew I wanted to paint her in a field of poppies. I worked on the painting over several months. When it was finally completed, I auctioned the original watercolor "Poppy's Poppies" through eBay which sent 100% of the proceeds directly to the Blind Cat Sanctuary.
It was a great feeling to help the shelter, but I was thoroughly sick of painting poppies. I told myself I never had to paint a poppy again.
A few years have passed since then. Every spring, when I drive through a particularly drab industrial area a few miles from my home, I see a patch of poppies that grows between the road and the sidewalk. The blooms are so brilliant that they compel me to paint poppies again. But this time, just a single bloom, not a field of them.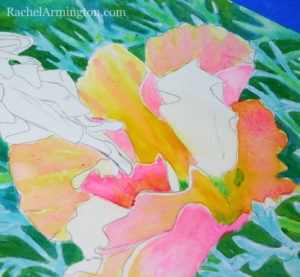 The poppy in this fairy painting is a different species than those in "Poppy's Poppies."  The leaves in Poppy's painting were an yellowy green, but these leaves are a dusky blue green.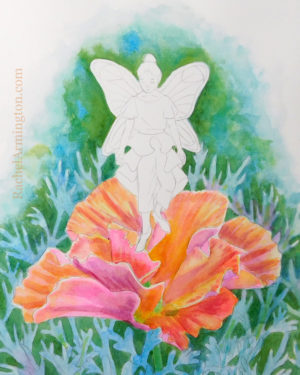 I wanted the fairy's clothing to be the same colors as the poppy's, so I established the colors in the flower before starting on her.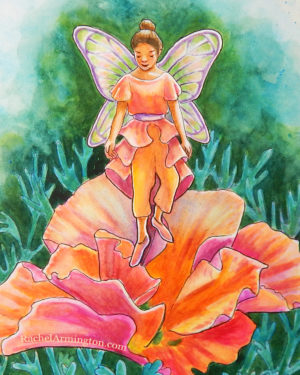 I glazed the two petals behind the fairy's feet with a thin wash of blue to make that edge of the flower recede.
https://www.zazzle.com/rachel_armington_art/gifts?cg=196997176250736288