This doll was made in the 1930s or 1940s. She's doesn't have any doll-maker identification on her: unmarked dolls such as she are usually knock-offs from more established companies. I believe she passed hands between many owners before she came to me. She'd been patched and repainted in places. And she had many new cracks and crazing! Because she's a composition doll, molded from a mixture of glue, wood dust and assorted chemicals, she is susceptible to moisture.
Her strings were so loose that she couldn't stand or even sit by herself. I'm not an expert, but the elastic holding her together didn't seem like what would normally be used (a person after my own heart).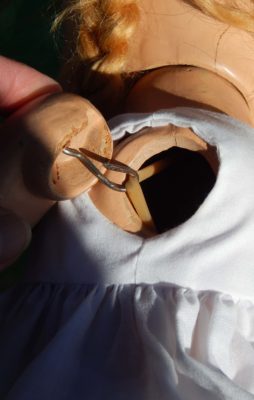 Composition tends to crack and craze, and the eyes of the rocker mechanisms (used to make the doll "sleep") tend to discolor and crystallize. I read somewhere that the pupils are made of celluloid, an early plastic, which is why they degrade. I've never seen replacement rocker mechanisms made from the same materials. Some people try to replace the eyes with glass or acrylic, some just leave well enough alone. Some suggest wiping the eyes with oil or furniture polish: these might improve the eyes' appearance in the short term, but will just cause more damage down the line. Some suggest trying to improve the appearance of the eyes with a light touch of paint.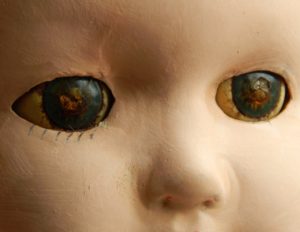 I'm not so subtle. This doll was headed to a new home, not a collector's shelf. So I painted the eyes with stain-blocking primer, acrylic paint, and acrylic gloss varnish. I kept the layers thin so that the eyes still rolled back and forth easily within their sockets. Then I began the repaint of the doll's skin.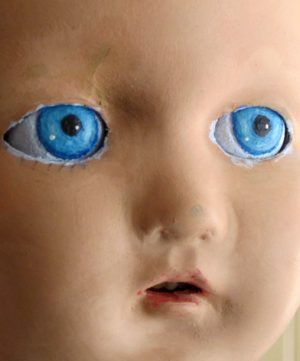 And although I'd purchased eyelashes to fit this doll's size, I couldn't find them when the time came. I drew I line of fabric glue on parchment paper, cut sections of feather off the shaft, and dipped their ends in the glue. Once the glue dried, I peeled off the feathers and glued then on the edges of the eyelids.