In one of my meanderings through local thrift shops, I came across a soft plaid baby's blanket. It had a few holes in it here and there, but it was 100 percent wool. When I brought it home, I put it through the washer and dryer a few times until it was nicely felted. A few months passed before I thought of the perfect project for it.
Traditional penny rugs are usually made up of wool that's been dyed with more muted, earthy colors, if only because the clothing during the Civil War was more muted, earthy colors. The rugs were an original American frugal craft: when the women couldn't patch their families' clothing anymore, they cut around the worn-out spots and made beautiful table runners out of the bits of cloth.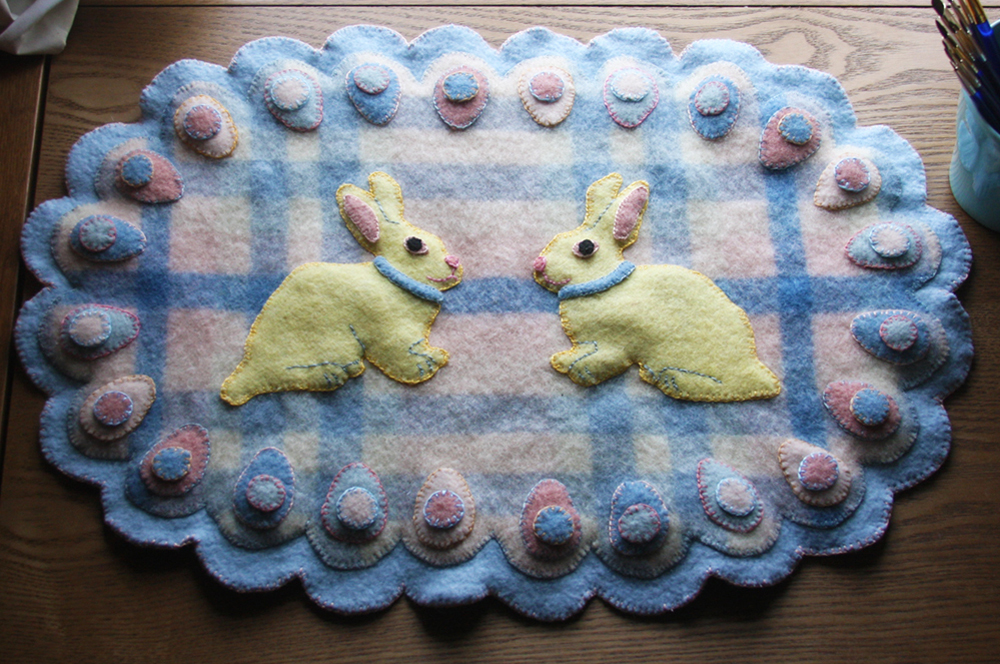 Part of me felt terribly wasteful as I cut up the little blanket for my Easter penny rug. The holes had shrunk when I put it through the washer and dryer. I figured how to cover the holes with the egg and bunny appliques. I didn't have one of the large Civil War pennies on hand to use as a template for my circles as the original penny rug craftswomen would have. I used a silver half dollar that was almost the same size instead.
You can print out the left and right facing bunny templates by clicking here: easter-bunnies-facing-left-and-right-template
I wanted my bunnies to be yellow and needed to dye wool. If you have never dyed wool with food coloring before, you can see how in this other penny rug video.