I originally designed this one piece wraparound blouse or shirt pattern for my Felty Fairies. This single pattern can be formed into three different blouse styles with other variations.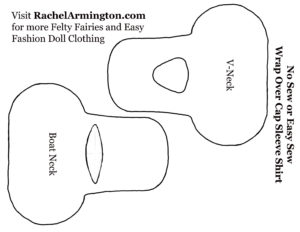 The printable pattern sheet comes with two different choices for the neckline, V-neck and boat neck, but can be easily altered for other styles.
I standardized this pattern so that people could also use it for Barbie sized fashion dolls. Although I always sew the garments for my Felty Fairies, these blouses for fashion dolls can be glued together. Also, although I only use wool felt for the garments of my Felty Fairies, other fabrics, including acrylic felt, can be used for these doll blouses.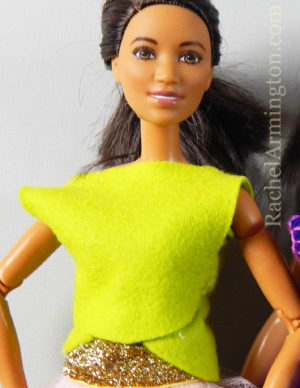 This lime green shirt is simple and sophisticated. It was shaped by wrapping the sides around from the back and then folding down the front panel. The sides peek down below the front, resembling a peplum. The glittery gold below the hem is the waistband